the exciting present
» GIVE AWAY THE HIGHEST OF HIGHS «

Surprise your friends and family with a unique and unforgettable gift:
A voucher for a bungy jump, Hot Rocket Bungy or Vertical (House) Running at the 96m high Jauntal railway bridge!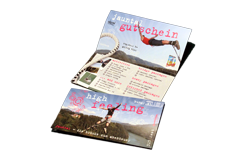 IMPORTANT INFO !!
The gift voucher, including all information, will be delivered by mail. You can choose to have it shipped in a neutral envelope (to make sure to keep it a surprise ;-) )
Shipping usually takes 1 to 2 business days. Upon request we can also ship your voucher via EMS (Express Mail Service). That way it is GUARANTEED to arrive the next business day (plus €12,- EMS fee). EMS orders have to be handed in with us before 12:00 to ensure timely shipping!
Unfortunately, cash upon delivery orders and EMS (Express) shipping are NOT available outside of Austria. Thank you for understanding!

Our vouchers are valid for 3 years after purchase and not appointment-bound. Vouchers can be used anytime during our opening hours and you are entitled to the purchased activity! Promotion vouchers (discounted vouchers, sponsored/partially sponsored vouchers, special vouchers) purchased at special conditions are valid for 1 to 3 years (validity will be noted directly on each voucher)!
There will be NO name on the voucher. There will be an empty space for dedications, names, and signatures
Please enter the according VOUCHER CODE or PROMOTIONAL CODE in the box underneath the article you are ordering!
Manufacturer:
Jauntal / Pyhrn Bungy
Results 1 - 7 of 7

Staudamm Klaus Coupon
Die Serienbilder von Deinem/Eurem Jauntal Bungy Jump. ...
Sales price with discount:
TANDEM - der Sprung zu Zweit an einem Seil - share your fun!
Sales price with discount:

Sales price with discount:
Bungy Jumping + HD Videaufnahme auf SD Card)
Sales price with discount:
2 x Bungy Jumping + HD-Video (Videoaufnahme von beiden ...
Sales price with discount:
Unser TOP ANGEBOT für Alle die nicht »single« springen ...
Sales price with discount:

Bungy Jumping von der Jauntalbrücke (96m) und vom Staudamm ...
Sales price with discount: